Mobile Order Picking App
2B-Picking works seamlessly with order management in NCR Counterpoint to automate the process of picking verification. The app includes built-in intelligence to streamline the picking process and reduce those costly errors. 2B-Picking is 100% wireless and can be customized to integrate with other POS/software applications.
Wireless Integration – no import required.

Scan, lookup or manually input order number to begin picking.

Once order is selected, a lock will prevent another user from inadvertently choosing the same one.

All order items appear on the screen and can be sorted by bin value or by items un or under picked.

User notified if scanned item is not on the order or if the entered quantity is greater than what is on the order.

Easily review Expected Qty vs. Scanned Qty. Under picked items are highlighted in red, fully picked are in green.

Option to require user to acknowledge any un or under picked items before able to send to CounterPoint.

Scanned items are stored locally on handheld untl reviewed and sent back to CounterPoint.

Option to send scanned order data to the Pick Verified, Pack or Release tab of Order Management in CounterPoint.
available orders auto pulled in from CounterPoint.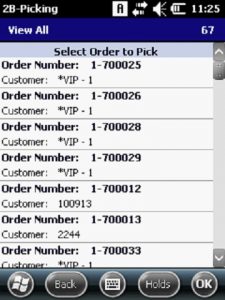 as items are scanned, background color will automatically display based on quantity picked vs. expected.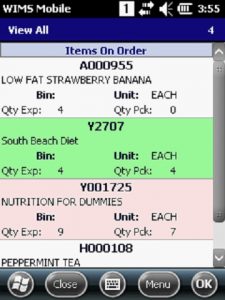 sort options can be adjusted at any point in the process.